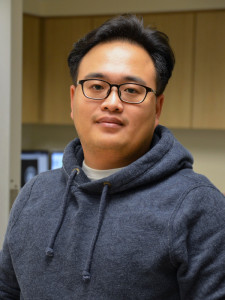 Doctoral Student
Office: 170-G Florida Gym
PO Box 118205
Gainesville, FL 32611
Email: jwoochung@hhp.ufl.edu

Bio
Jae Woo Chung is currently a candidate Ph.D. student in the Rehabilitation Neuroscience Laboratory. He completed the Linked Bachelor's and Master's Program in kinesiology at Yonsei University, Seoul, Korea. During his master's degree work, his concentration was on motor learning and control in relation to attentional focus and visual feedback. He is currently funded through the UF Graduate School Fellowship Program.
Research Interests
Jae is interested in using non-invasive brain imaging techniques (EEG, DTI, MRI, fMRI), electrophysiological technique (EMG), and motion analysis (Vicon) to examine brain differences between healthy individuals and those with movement disorders such as Parkinson's disease, Essential tremor, and Dystonia. Some of his projects involve examining the relationship between accurate motor performance related to visual information and cortical activity in healthy individuals, examining how brain activity changes by increasing visual feedback in Essential tremor by using brain imaging techniques, and his dissertation investigates the effect on Levodopa medication in Parkinson's disease by using EEG and fMRI. He hopes to investigate the cortical and subcortical activity changes depending on medication conditions (ON/OFF) in Parkinson's disease.
Selected Publications
Burciu RG, Chung JW, Shukla P, Ofori E, Li H, McFarland NR, et al. Functional MRI of disease progression in Parkinson's disease and atypical Parkinsonian syndromes. 2016; Neurology 87(7):10.1212
Burciu RG, Ofori E, Shukla P, Pasternak O, Chung JW, McFarland NR, et al. Free-water and BOLD imaging changes in Parkinson's disease patients chronically treated with a MAO-B inhibitor. Hum Brain Mapp 2016