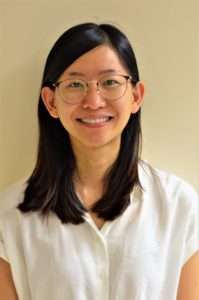 Post-Doctoral Research Associate
Office: 170 Florida Gym
PO Box 118205
Gainesville, FL 32611
Bio
Wei-en' s research uses cutting-edge neuroimaging techniques to understand the neural mechanisms of voluntary movement and pain processing. Her dissertation is entitled "Neuroimaging sensorimotor circuits in chronic pain using high-density electroencephalography". She has published 5 papers of which she is first-author on 2. Her first author papers were published in Journal of Pain (IF = 4.5), and Neuroimage clinical (IF = 4.45). She has developed EEG pipelines using EEGLAB, and MATLAB to perform computationally intense analyses, and implemented these techniques to characterize neural dynamics during pain-eliciting stimuli in chronic jaw pain. In collaboration with Dr. James Thomas at VCU, she uses virtual reality (VR) in combination with EEG, and is currently testing this paradigm in individuals with chronic back pain, as well as in individuals with intractable back pain who are undergoing spinal cord stimulation therapy.
Research Interests
Wei-en's research interests focus on using neuroimaging techniques (EEG, MRI/fMRI/ diffusion imaging) to investigate neural mechanisms in aging and disease populations. Her research also combines quantitative behavioral measures of motor control, electromyography (EMG), subjective pain evaluation, and quantitative sensory testing.
Selected Publications
E. Wang, A. Roy, G. Misra, R. L. Ho, M. C. Ribeiro-Dasilva, R. B. Fillingim, and S. A. Coombes, "Altered neural oscillations within and between sensorimotor cortex and parietal cortex in chronic jaw pain," NeuroImage: Clinical, vol. 24, no. May, p. 101964, 2019.
Roy, W. E. Wang, R. L. M. Ho, M. C. Ribeiro-Dasilva, R. B. Fillingim, and S. A. Coombes, "Functional brain activity during motor control and pain processing in chronic jaw-pain," Pain, vol. 159, no. 12, pp. 2547-2564, 2018.
A. Coombes, W. E. Wang, A. Roy, and R. L. M. Ho, "Neurophysiological evidence of the dynamic and adaptive pain-motor interaction," The Journal of Physiology, vol. 596, no. 14, pp. 2639-2640, 2018.
E. Wang, A. Roy, G. Misra, D. B. Archer, M. C. Ribeiro-Dasilva, R. B. Fillingim, and S. A. Coombes, "Motor-Evoked Pain Increases Force Variability in Chronic Jaw Pain," The Journal of Pain, 2018.
Wei-en's personal webpage: https://annie-wang-weien-2.netlify.com/