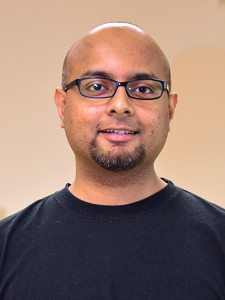 Post-Doctoral Research Associate
Office: 172-K Florida Gym, PO Box 118205
Gainesville, FL 32611
Email: aroy2@binghamton.edu

Bio
Dr. Roy completed his Masters of Computer Science and Ph.D. in Biomedical Engineering at State University of New York at Binghamton. His research used an evolutionary computation based approach to find statistically significant and clinically relevant EEG based biomarkers to distinguish chronic alcoholics from healthy controls. During this time, he was awarded a Graduate Teaching Excellence Award and a Post-Doctoral Research Exhibition award for his excellent work. During his Postdoctoral training in the Department of Psychology at Pennsylvania State University, he developed semi-automated machine learning procedures that allow simultaneous examination of subject-specific data collected from multiple fMRI scan sessions. These procedures were then tested on a dataset of individuals with traumatic brain injury, and due to their generalizability, they may be applied to a variety of other EEG and fMRI based clinical problems.
Research Interests
Dr. Roy's research is currently focused on examining neural network plasticity associated with musculoskeletal pain and movement disorders using EEG and fMRI based data. He is interested in developing and using novel data-driven computational techniques based on signal processing, machine learning, and graph theory that would allow easy integration of expert knowledge.
Selected Publications
Roy, A., Schaffer, J. D., & Laramee, C. B. (2016). A novel approach to signal classification with an application to identifying the alcoholic brain. Applied Soft Computing, 43, 406-414.
Roy, A., Campbell, C., Bernier, R. A., & Hillary, F. G. (2016). An evolutionary computation approach to examine functional brain plasticity. Frontiers in neuroscience, 10. PMID: 27092047
Rajtmajer, S. M., Roy, A., Albert, R., Molenaar, P. C., & Hillary, F. G. (2015). A voxelwise approach to determine consensus regions-of-interest for the study of brain network plasticity. Frontiers in neuroanatomy, 9. PMCID: PMC4517380