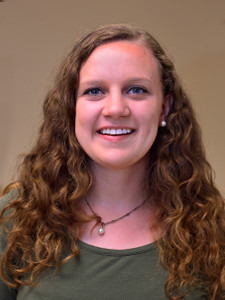 Undergraduate Study Coordinator
Office: 170 Florida Gym, PO Box 118205
Gainesville, FL 32611
Email: ahatcher@ufl.edu

Bio
Abigail Hatcher is pursuing her Bachelor's degree from the University of Florida in Behavioral and Cognitive Neuroscience with a minor in history. She will graduate in December of 2016 and begin a graduate program in Health Education and Behavior also at the University of Florida, and will eventually pursue a seat in medical school. Her research background has involved investigating biomarkers in the substantia nigra of PD patients at the Laboratory for Rehabilitation Neuroscience; she also serves as a volunteer at Shands Hospital and is an ambassador for the EMMI patient education program.
Research Interests
Currently, Abigail is a Study Coordinator for a subset of the Studies of Motor Control and Pain investigating Somatotopy. The Somatotopy study focuses on functional and structural imaging of healthy individuals in the somatotopic region of the brain. Subjects in the study perform different motor tasks during a fMRI scan to investigate the possible overlap and differences between somatic regions corresponding to specific muscular regions.