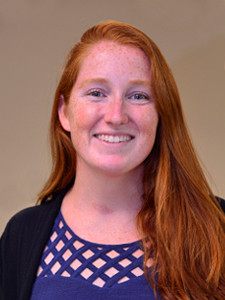 Study Coordinator
Office: 172-D Florida Gym, PO Box 118205
Gainesville, FL 32611
Email: cmcnally33414@ufl.edu
Phone: 352.294.1771

Bio
Caitlin McNally graduated from the University of Florida in 2016 with a Bachelor's degree in Applied Physiology & Kinesiology and a minor in Spanish. Her research background involves working on projects concerning dissatisfaction among primary care physicians as an Undergraduate Research Assistant through UF's Department of Community Health and Family Medicine. She has also had experience in community health and patient care through her involvement with UF's Mobile Outreach Clinic, UF's Equal Access Clinic, Shands Rehab Hospital, and medical mission trips to Honduras, Costa Rica, Peru, and Bradenton, FL.
Research Interests
Currently, Caitlin is a Study Coordinator for multiple studies in the Laboratory for Rehabilitation Neuroscience. She manages studies of Functional and Structural Imaging and Motor Control in Movement Disorders, Dysmetria and Motor Function in Spinocerebellar Ataxia, Motor Control and Pain, Image Parkinson's Disease Progression, and the Consortium for Diagnostic Algorithm with Novel Markers in Early Alzheimer's Disease.