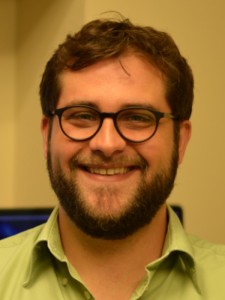 Post-Doctoral Research Associate
Office: 172-K Florida Gym, PO Box 118205
Gainesville, FL 32611
Email: bwilkes@ufl.edu
Bio
Dr. Wilkes completed his bachelor's degree in Neurobiological Sciences, as well as master's and doctoral degrees in Psychology at the University of Florida. His master's thesis focused on oculomotor and vestibulo-ocular reflex function in autism spectrum disorders (ASD). His doctoral dissertation focused on the neural circuitry mediating repetitive behavior in individuals ASD and an animal model of repetitive behavior, utilizing magnetic resonance and diffusion tensor imaging. Dr. Wilkes' current work focuses on movement disorders, including effects of deep brain stimulation in essential tremor, and translational studies of alpha-synuclein pathology.
Research Interests
Dr. Wilkes is interested in sensorimotor systems and corresponding brain disorders, utilizing a bidirectional translational research approach with multimodal neuroimaging techniques.
Selected Publications
Carson, T. B., Wilkes, B. J., Patel, K., Pineda, J. L., Ko, J. H., Newell, K. M., … Lewis, M. H. (2017). Vestibulo-ocular reflex function in children with high-functioning autism spectrum disorders.
Autism Research: Official Journal of the International Society for Autism Research
,
10
(2), 251–266.
https://doi.org/10.1002/aur.1642
Wilkes, B. J., & Lewis, M. H. (2018). The neural circuitry of restricted repetitive behavior: Magnetic resonance imaging in neurodevelopmental disorders and animal models.
Neuroscience and Biobehavioral Reviews
,
92
, 152–171.
https://doi.org/10.1016/j.neubiorev.2018.05.022
Wilkes, Bradley J., Carson, T. B., Patel, K. P., Lewis, M. H., & White, K. D. (2015). Oculomotor performance in children with high-functioning Autism Spectrum Disorders.
Research in Developmental Disabilities
,
38
, 338–344.
https://doi.org/10.1016/j.ridd.2014.12.022